Somerset Court Resident Life
Activities are a significant component of Somerset Court resident life. Our department is staffed with experienced and exceptionally hard-working individuals.
Check Out Our Newsletter!
Our Newsletter highlights events of the past month and upcoming events for the current month. This way you never miss what's going on in the community!
Check Our Calendar!
Our Calendar lists the daily events and times of our activities. Almost all of our activities are open to family members and friends of our residents.
Activities are a major component of resident life at Somerset Court. Our Activities Department is staffed with experienced, energetic and exceptionally hard working individuals. Of course we have big events such as Christmas, Easter, St. Patrick's Day, Valentine's Day, Mother's and Father's Day, Thanksgiving, 4th of July and New Year's celebrations. We also offer and organize card games, puzzles, bingo, indoor golf, pool tournaments, Wii games and much more.
Our facilities are designed with many themed sitting rooms and nooks where our residents can just sit, relax and visit with friends. These spaces are extensions of our resident apartments.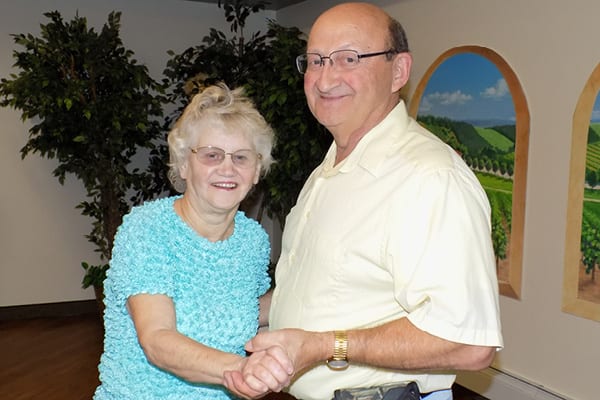 You Be the Host
Parties and activities are available not just for residents but also their guests. Birthday parties and anniversaries are regularly celebrated. We host monthly All City Senior Dances and bring in live entertainment for the enjoyment of our residents and their guests.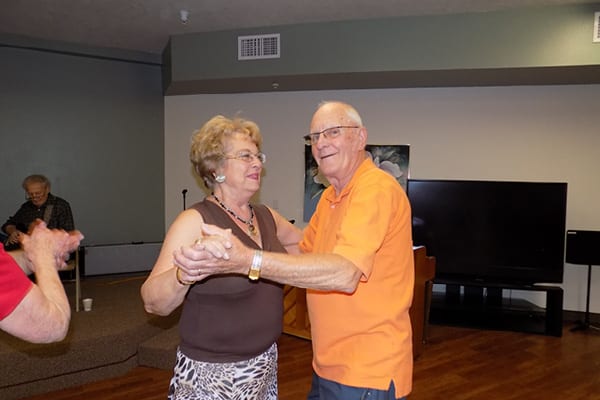 Dance All Night
School bands, orchestras and other entertainers visit regularly. Resident's apartments are just a small part of their home at Somerset Court. Residents' homes here includes all the common areas and other amenities we offer. Want to host dinner for family or friends? The Family Dining Room is yours!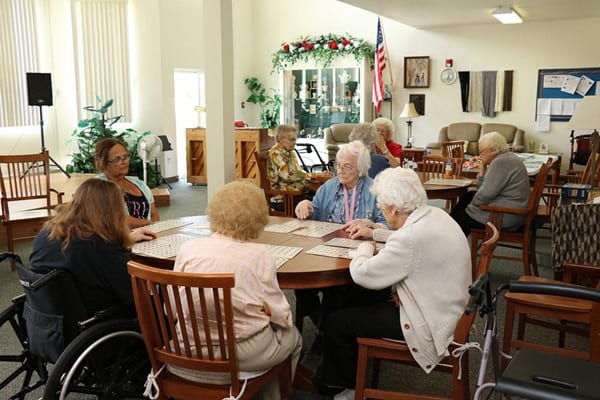 Relax & Visit
How about hosting a birthday party or baby shower? - You have The Club, our beautiful Auditorium, Heritage Room, Activity Garden, and more venues to do so. Don't forget dining at Somerset Court is an activity all by itself - three times a day - EVERY DAY!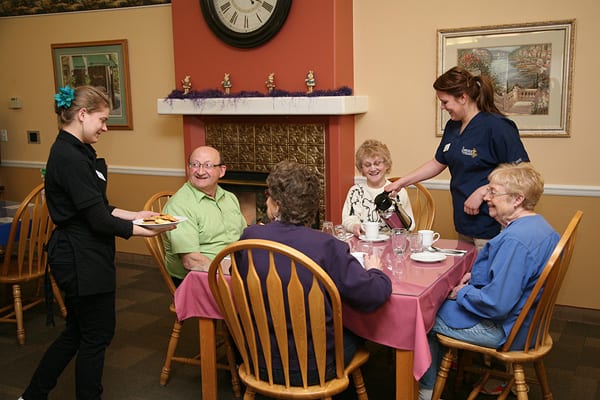 Breakfast, Lunch and Dinner...INCLUDED!
Our all inclusive pricing includes breakfast, lunch and dinner. At Somerset Court you don't just eat, you dine! Our dining rooms are comfortable, bright, and delightfully decorated. However, that is not what's most important - it's the meals.
Full Service Dining Experience!
Somerset's dining rooms are full service restaurants. Whether it's breakfast, lunch or dinner, you select what YOU want from our extensive menu. We will prepare it the way you like.
Our professional staff takes your orders and serves you. You can begin each dining experience at our extensive soup and salad bar if you like. Then order the drink or drinks of your choice and finally order from the menu or the chef's daily specials.
Special Dietary Needs Accommodated
Special dietary needs? Our staff will see that they are accommodated.
Guests are always welcome and their meals are moderately charged.
Our entire family, thanks you sincerely for the fabulous tenth anniversary celebration. Where do I begin to extend praise, planning, decorations, servers, fantastic food, organization and music? It all made for one very enjoyable evening. Blessings to all who made it so.
Many thanks for everything you do for the residents of Somerset Court. We appreciate you so much.
My friend, Margaret invited me to your fish dinner. What delicious food and the entertainment was perfect for our age group. The staff was so courteous and polite and helpful ... I'm looking forward to next years' fish dinner. My thanks to all
I want to extend a sincere thank you to all the staff at Somerset Court. My mother moved into her apartment at the end of July and we are so pleased with the facility, your attention to detail, the excellent food and daily activities, but most of all, the people who work with the residents. The kindness, willingness to help on every level, the responsiveness to our questions, your desire to provide great experiences, and the wonderful, positive attitudes we observe from everyone there sets Somerset Court apart from all others.
It is always difficult to provide support when we are so far away. But you have become a second family to my mom. We explored many options as we looked for her new residence. Somerset is the perfect place and we hope you celebrate what a great team you have.
It is always a pleasure to visit mom at Somerset. Your seasonal decorations are very beautiful and the guest suite is very impressive. All your hard work is appreciated by everyone...and each of you is greatly appreciated by us.
Schedule your Tour
We have times that will fit your schedule.
Call to setup your tour!